Abattis Bioceuticals Corp.
USA: ATTBF | Canada: ATT | Germany: 115:GR
Last Price: .085 | Website | SEC Filings | Latest News

Today we revisit one of the most unique and diversified Cannabis companies on the market today!
In late 2017, the World stood in awe as Bitcoin and other CryptoCurrencies began soaring to astronomical heights with seemingly no end in sight.
Wall Street was forced to take notice — finally admitting that Cryptocurrencies are here to stay and it's underlying BlockChain Technology could change Banking & Accounting forever.
Not to be outdone, the Legal Marijuana/Cannabis Sector has been running strong for 5+ years now with the best yet to come!
Just last month, Canada's Historic Senate vote changed the Global landscape of the Cannabis Sector forever by becoming only the second country – and first of the G7 – to Legalize Recreational Marijuana on a National scale!
THE IMPACT OF THIS CAN NOT BE UNDERSTATED. Simply put, Canada's legalization is among the Biggest Events in the HISTORY of the Cannabis Sector.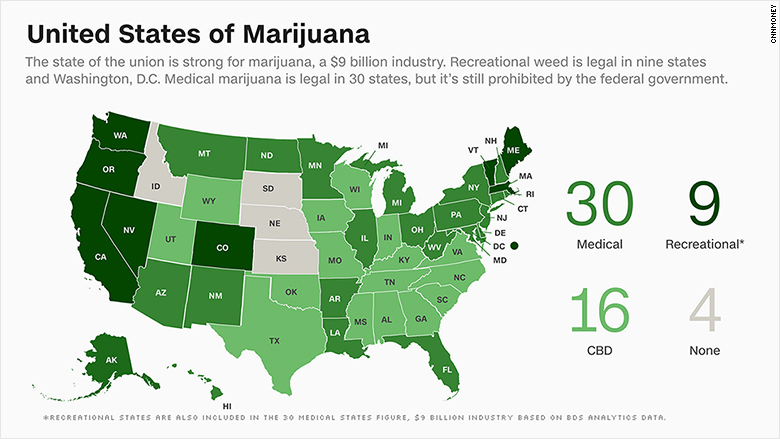 As we approach the November 2018 Midterm Elections, the Sector could see another resurgance as States like New Jersey, Vermont, Ohio, and Michigan look to get Full Legalization on the ballot.
And then there's BioTech – long known for it's "Rags to Riches" rallies while outpacing the market this year with 17% Growth, and Craft Beer – now representing over 12% of US Beer Market while Retail Sales grew by 10%.
So What do these four ONCE-IN-A-LIFETIME Sector Booms have in Common?
They are all the focus of this week's profile – ATTBF (Abattis Bioceuticals Corp)!
ATTBF – A DIVERSIFIED CANNABIS COMPANY
ATTBF is a life sciences and biotechnology company which aggregates, integrates and invests in cannabis technologies and biotechnology services for the legal cannabis industry developing in Canada.
ATTBF has successfully developed and licensed natural health products, medicines, extractions, and ingredients for the biologics, nutraceutical, bioceutical, and cosmetic markets. Heck, they've even developed a CBD-Based Sunscreen!
ATTBF has uniquely positioned itself to be a leading service provider in the Cannabis Industry by offering integrated solutions for Cannabis based and natural formulations, extracts and product development from concept to market delivery.
In fact, ATTBF has already developed over 150 custom formulations and continue to break new ground in testing standards, produced development and providing exclusive cannabinoid extracts and formulations for specific health and wellness issues.
The company accomplishes this through it's multiple subsidiaries:
Vergence Naturals™ is is a team of nutraceutical marketing and brand specialists operating as the bioceutical branding, marketing and sales arm of ATTBF, focused on health products to penetrate the fast-growing market for safe and effective natural products that meet unmet wellness needs. Its key products are geared towards natural cannabinoid enhanced goods.

ATTBF's Vergence Naturals subsidiary is key to the company's distribution model. With an established network of retail distribution, Vergence plays a large role in monetizing the company's expanding product line.
GABRIOLA GREEN FARM
Last Spring, we first reported ATTBF's move to Acquire the Gabriola Green Farms – a LICENSED Producer Applicant.

Today, ATTBF has 100% interest in Gabriola and has integrated it into a wholly-owned subsidiary making them a full-service Cannabis Company!

With Gabriola, ATTBF currently has plans for an approximately 26,000 square-foot production facility to produce medical-grade marijuana located on 18 acres in the agricultural land reserve on Gabriola Island, BC. [Read More]

The Facility will be a state-of-the-art facility with proposed growing, extraction and propagation areas and a genetics lab.

"Once we receive our license through Gabriola and complete construction of the Facility, we will have a large-scale platform from which to cultivate marijuana and produce and sell extracted cannabis products," added CEO Rob Abenante.
Vaping is another Hot Industry that ATTBF looks to tackle head on.
According to the CDC, there are more than 9 MIL vape users in the US and at least 20 MIL worldwide, replacing traditional cigarettes & tobacco products, making it a growing $3.7 BIL Market.
ATTBF inked a Definitive Agreement to Acquire Green Tree Therapeutics, giving them access to the company's popular line of Vaporizers, already sold across North America.
In May, the company announced the Launch of 3 New Vaporizers!
Products within the Green Tree brand will made available through ATTBF's wholly-owned subsidiary Vergence Naturals Ltd.


Eventually, through Gabriola's pending license to produce, ATTBF will be able to load its vaporizer line with its own cannabinoid formulations and sell directly to consumers.
MARKET POTENTIAL
Canada's cannabis industry is expected to surpass $22 BIL in size over the coming years, according to Deloitte, with over 140,000 registered medical marijuana patients today. The industry is expected to see a shortfall in supply come October 17 when marijuana will be available for recreational use.
So let's take a look at all the ways ATTBF plans to capitalize on the Growing Market….
READY FOR CANNABINOID-INFUSED BEER?

Last month, ATTBF announced a landmark partnership with Faculty Brewing to develop a line of cannabinoid-rich, hemp-infused, THC-free CRAFT BEERS!
ATTBF is collaborating with Northern Vine Labs, who has been contracted to provide the cannabinoid-rich, THC-free, hemp extract and to carry out research, development and analytical testing related to the formulation of a unique hemp- and cannabis-infused beer.
"By aiming to develop a line of functional beers, each based on a different type of hemp extract, we hope to have a product that is compliant and market-ready as soon as Health Canada releases its new regulatory framework for hemp and cannabis-infused beverages,"
But that's just the tip of the iceburg.
While Vaporizers and Beer are enough to get anyone excited, ATTBF's next move could be it's biggest yet….
ATTBF JOINS THE CRYPTO REVOLUTION!
Cannabis + Crypto. The two single HOTTEST Sectors of the Market right now.
ATTBF is now merging the two together, and the windfall could be tremendous.
On Feb 1, the company announced the Acquisition of a 49% Stake in CannaNUMUS Blockchain Inc. – developers of a cryptocurrency which will represent the performance of a suite of portfolio cannabis companies.
With a 49% equity stake in this blockchain platform, Abattis could see a significant upside from any CannaNUMUS liquidity event, like an ICO!
Yes, there are already Marijuana-based CryptoCurrencies. And while none are especially noteworthy, it's worth mentioning that CANN (CannabisCoin) has seen 20,000%+ GAINS and now boasts a $5.5 MIL Market Cap, POT (PotCoin) has seen 3,300%+ GAINS and enjoys a $35 MIL Market Cap, and THC (HempCoin) has seen a monsterous 114,000%+ Gain with a $28 MIL Market Cap!
Needless to say, ATTBF is in good company!
In fact, ATTBF has already hit two major milestones with it's burgeoning CryptoCurrency by bringing
two Cannabis companies, Active Health Products Inc. and Gabriola Green Farms into it's Blockchain portfolio.
SINCE WE LAST COVERED ATTBF….
When one door closes, sometimes and even BIGGER door opens! Here's what's new with ATTBF:
ATTBF SELLS NORTHERN VINE LABS
You may recall that ATTBF had a significant interest in Northen Vine Labs to produce, among many things, cannabis derivatives, formulations, and even CBD-Infused Beer. And while those ventures will continue, the company has agreed to sell it's interest in this small outfit for a multi-million dollar sum in order to scale up in a BIG way with it's next venture….
ATTBF INVESTS IN HUGE NEW ONTARIO LAB FACILITY!
Just last week, ATTBF inked a deal to Invest in XLABS Therapeutics in Ontario and will soon begin the build out of a proposed 320,000 SQ FT Lab Facility!
This Facility has been deemed suitable for use as a medical cannabis research facility under Health Canada's Narcotic Control Regulations and now gives ATTBF a major footprint in the Canada's largest provence, home to 40% of the population + 60 of the 112 approved Licenced Cannabis Producers!
The joint venture is intended to create an extraction, purification, formulation, and production giant in the heart of Canada's population and LP center.
"Our partnership with XLABS marks another significant milestone for Abattis," stated Rob Abenante, President and CEO of Abattis. "….we are looking to aggressively expand our service offerings with the Belleville Facility, including through key services such as industrial scale extraction,"
ATTBF PARTNERS WITH BLOCKSTRAIN
Last month, ATTBF took steps to sure up their systems by partnering with what may be a famiiar Blockchain Tech company to all of you – BLOCKSTRAIN TECHNOLOGY CORP.
Blockstraing will help ATTBF keep track of product development history, sales, testing results, and similar data while providing completely reliable records to the satisfaction of regulators and customers alike, and saving the company time and money by streamlining Abattis' processes.
THE BOTTOM LINE
ATTBF has certainly been busy since we last covered it with a plethora of big developments still in the pipeline!
And now it's trading cheaper than ever at Long-Term Support Levels with a chart finally moving out of OVERSOLD RSI Territory….
So whats the UPSIDE POTENTIAL? A return to 52 Week Highs would yield over 700% GAINS!
ATTBF represents a unique opportunity that marries both the Cryptocurrency and Cannabis industries – two of the Hottest Industries of the new milennium.
With a nearly 50% stake in a new Cannabis CryptoCurrency, the company may be well positioned to take advantage of the upcoming Initial Coin Offering (ICO) and generate value for its shareholders.
And with initiatives in Cannabinoid-Infused Beer, it's Vaporizer Acquisition, it's core business of Cannabis Lab Testing, Product Development, and so much more — ATTBF is truly a the "Jack of All Trades" of the Cannabis Sector!
With much to look forward to, make sure you put ATTBF on your screen RIGHT NOW and Follow on Twitter for all the Updates + Play-by-Play!
Good Trading,

Xavier Wright
Editor | WallStreetAlerts.org

All Content, Distribution, and editorial control has been given, reviewed, and approved by Abattis Bioceuticals Corp.

WallStreetAlerts.org does not own any shares of ATTBF. WallStreetAlerts.org has been compensated one-hundred and fifty thousand dollars cash via bank wire by Abattis Bioceuticals Corp. for a two week advertising services contract. Please Read Full Disclaimer Below.
---
Need an Online Broker to place trades?
We HIGHLY recommend ETRADE!
Want this Alert FASTER Next Time?
Subscribe for FREE SMS Text Message Alerts in REAL TIME!
Simply Text the word: WALLSTREET to the Number: 71441 to join!
Home | Trading School | Twitter | Disclaimer | Contact | UNSUBSCRIBE | View in Browser
Please read our Full Disclaimer: http://www.WallStreetAlerts.org/disclaimer

This report/release/profile is a commercial advertisement and is for general information purposes only. We are engaged in the business of marketing and advertising companies for monetary compensation unless otherwise stated below. The paying party may own shares and may liquidate them during the promotional period.

PLEASE NOTE WELL: WallStreetAlerts.org and its employees are not a Registered Investment Advisor, Broker Dealer or a member of any association for other research providers in any jurisdiction whatsoever and we are not qualified to give financial advice.

WALLSTREETALERTS.ORG WILL NEVER ACCEPT FREE OR RESTRICTED TRADING SHARES IN ANY COMPANIES MENTIONED at WALLSTREETALERTS.ORG &/OR ANY OF OUR SOCIAL NETWORKING AND EMAIL ADVERTISING PLATFORMS.

You are reading this newsletter because you have subscribed via our Opt-In Signup form on our Website. If you have been subscribed by mistake, you may unsubscribe HERE.

This Newsletter is now owned and operated by Link Media. Any wording found in this e-mail or disclaimer referencing to "I" or "we" or "our" refers to Link Media and/or it's subscriber base. Our website and newsletter are for Entertainment purposes only. This newsletter is NOT a source of unbiased information. Never invest in any stock featured on our site or emails unless you can afford to lose your entire investment. The disclaimer is to be read and fully understood before using our site, or joining our email list. Full disclaimer can be read at http://www.WallStreetAlerts.org/disclaimer

We encourage all to read the SEC INVESTOR ALERT before reading our Newsletter.

Release of Liability: Through use of this email and/or website advertisement viewing or using you agree to hold WallStreetAlerts.org, its operators owners and employees harmless and to completely release them from any and all liability due to any and all loss (monetary or otherwise), damage (monetary or otherwise), or injury (monetary or otherwise) that you may incur. WallStreetAlerts.org sponsored advertisements do not purport to provide an analysis of any company's financial position, operations or prospects and this is not to be construed as a recommendation by WallStreetAlerts.org or an offer or solicitation to buy or sell any security.

COMPENSATION: WallStreetAlerts.org has been compensated one-hundred and fifty thousand dollars cash via bank wire by Abattis Bioceuticals Corp. for a one week advertising services contract. WallStreetAlerts.org does not own any shares of ATTBF.

All Content, Distribution, and editorial control has been given, reviewed, and approved by Abattis Bioceuticals Corp.

WallStreetAlerts.org has been previously compensated a total of three-hundred and seventy thousand dollars cash via bank wire by a Abbattis Bioceuticals Corp. for two separate advertising services contracts which have expired. WallStreetAlerts.org was also previously compensated one-hundred and forty-five thousand dollars cash via bank wire by a third party, Awareness Consulting Network LLC for a one week Abattis Bioceuticals Corp. advertising services contract which has expired. WallStreetAlerts.org does not investigate the background of any third party. The third party may have shares and may liquidate it, which may negatively affect the stock price. This compensation constitutes a conflict of interest as to our ability to remain objective in our communication regarding the profiled company. WallStreetAlerts.org may purchase shares on the open market of any mentioned company following the dissemination of this email. The information contained herein is based on sources which we believe to be reliable but is not guaranteed by us as being accurate and does not purport to be a complete statement or summary of the available data. WallStreetAlerts.org encourages readers and investors to supplement the information in these reports with independent research and other professional advice. All information on featured companies is provided by the companies profiled through their website, news releases, and corporate filings, or is available from public sources and WallStreetAlerts.org makes no representations, warranties or guarantees as to the accuracy or completeness of the disclosure by the profiled companies. Further, WallStreetAlerts.org has no advance knowledge of any future events of the profiled companies which includes, but is not limited to, news & press releases, changes in corporate structure, or changes in share structure.

None of the materials or advertisements herein constitute offers or solicitations to purchase or sell securities of the companies profiled herein and any decision to invest in any such company or other financial decisions should not be made based upon the information provide herein. Instead WallStreetAlerts.org strongly urges you conduct a complete and independent investigation of the respective companies and consideration of all pertinent risks. Readers are advised to review SEC periodic reports: Forms 10-Q, 10K, Form 8-K, insider reports, Forms 3, 4, 5 Schedule 13D. WallStreetAlerts.org is compliant with the Can Spam Act of 2003. WallStreetAlerts.org does not offer such advice or analysis, and WallStreetAlerts.org further urges you to consult your own independent tax, business, financial and investment advisors. Investing in micro-cap and growth securities is highly speculative and carries and extremely high degree of risk. It is possible that an investor's investment may be lost or impaired due to the speculative nature of the companies profiled.

The Private Securities Litigation Reform Act of 1995 provides investors a 'safe harbor' in regard to forward-looking statements. Any statements that express or involve discussions with respect to predictions, expectations, beliefs, plans, projections, objectives, goals, assumptions or future events or performance are not statements of historical fact may be "forward looking statements". Forward looking statements are based on expectations, estimates, and projections at the time the statements are made that involve a number of risks and uncertainties which could cause actual results or events to differ materially from those presently anticipated. Forward looking statements in this action may be identified through use of words such as "projects", "foresee", "expects", "will", "anticipates", "estimates", "believes", "understands", or that by statements indicating certain actions "may", "could", or "might" occur. Understand there is no guarantee past performance will be indicative of future results. Past Performance is based on the security's previous day closing price and the high of day price during our promotional coverage.

In preparing this publication, WallStreetAlerts.org has relied upon information supplied by various public sources and press releases which it believes to be reliable; however, such reliability cannot be guaranteed. Investors should not rely on the information contained in this email and website. Rather, investors should use the information contained in this website as a starting point for doing additional independent research on the featured companies. The advertisements in this email and website are believed to be reliable, however, WallStreetAlerts.org and its owners, affiliates, subsidiaries, officers, directors, representatives and agents disclaim any liability as to the completeness or accuracy of the information contained in any advertisement and for any omissions of materials facts from such advertisement. WallStreetAlerts.org is not responsible for any claims made by the companies advertised herein, nor is WallStreetAlerts.org responsible for any other promotional firm, its program or its structure.